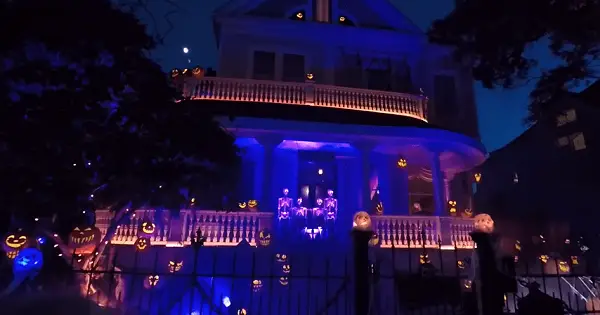 A Look At New Orleans Best Halloween Decorated House – Ghost Manor
The Best Halloween Decorated House
For the last 9 years, New Orleans Ghost Manor house on Magazine Street has been a must-see during Halloween. The manor is a Queen Anne Victorian built-in the year 1892 by Moise Waldron. The house has passed through numerous owners throughout the decades. In 2015 a video shot from a phone was displayed on FaceBook and got over a million views. Since then the house has been a must-see for all those who love Halloween displays.
Each year the display gets better, from the technology to the decor. It's one of those displays that really are a fit for the area. In 2015 they added coordinated lighting effects and skeletal animatronics. It's a must-see display if you're in the New Orleans area during Halloween.
Ghost Manor Haunted Display 2020
Ghost Manor will NOT have their regular display this year. As much as they would like to have a regular display they feel like they can't. With the pandemic showing no signs of slowing down, there's no real way for them to control the flow of traffic or social distancing. They WILL have some kind of static display, it just won't be the usual one. For more information check out their site here > GHOST MANOR HAUNTED DISPLAY
Check out last years display in these videos we found by Noladeej and let us know your thoughts
Video Source – Noladeej
Do you have an idea or something for us to showcase? Know somewhere strange to stay the night or that you think we should look into? Have a creepy awesome service or strange carnival/tour you think we should write about? Want us to showcase your talent, pictures, or videos? Send us an email to [email protected]m.