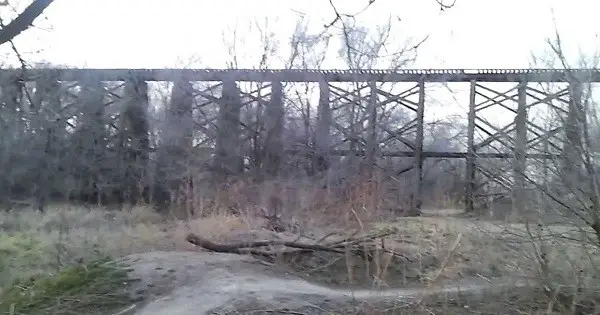 There's a Creepy Location In Lubbock,Texas Called "Hell's Gate"
Hell's Gate – Lubbock, Texas
The Last Place You Would Want To Be Left Alone At
There's an old train bridge known as "Hells Gate" that was built in the early 20th century in the town of Lubbock, Texas. The bridge and the area around it have gained a very haunted and creepy reputation. Just like many other sites across the planet, Hell's gate is surrounded by folklore and legend. There are various stories of spooky things that go on here at night. Most of them are paranormal but others aren't. Some locals do believe devil worshippers frequent the area on certain nights. Some believe people have been murdered in the area, could they have been sacrificed? Check out the videos we found below and let us know your thoughts in the comment section.
Video Source – Awesome 98
Video Source – Big Face Productions 

Could Hell's Gate Be A Portal?
Some believe the area is some kind of spiritual portal. An area where the veil between this side and another is thin. One where entities from other places are able to travel to and from. Others believe other entities from darker places are also able to access it. Could this be the reason the area is surrounded by bad tales? Or could many of the stories be made up, a way to scare people off? There are a ton of creepy places that aren't haunted. They just look like somewhere that would be haunted. What are your thoughts on this?
Have a cool idea for us to showcase? Know somewhere strange to stay the night or that you think we should look into? Have a creepy awesome service or strange carnival/tour you think we should write about? Send us an email to [email protected]