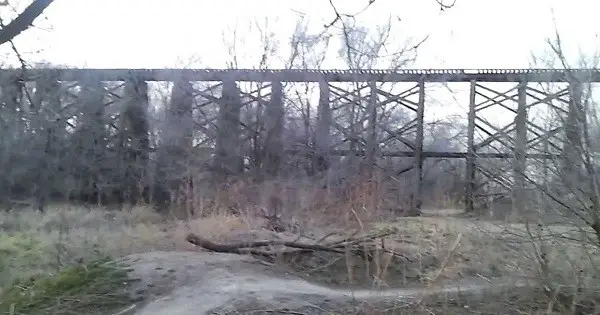 There's a Creepy Location In Lubbock,Texas Called "Hell's Gate"
Hell's Gate – Lubbock, Texas
The Last Place You Would Want To Be Left Alone At
There's an old train bridge that was built in the early 20th century in the town of Lubbock, Texas.  The bridge and the area around it have gained a very creepy reputation.
Just like other similar sites across the world, Hell's Gate is one that's surrounded in folklore and legend. There are various stories of spooky things that go on here at night, most of them are paranormal but others aren't. Some of the locals claim that devil worshipers come here pretty frequently. 
Other stories talk about other more sinister real things going on within this area. Some people say that there were suicides and even murders happening in this location.
Could this be why the area is supposedly haunted? Some say that this area has had bad energy surrounding it since day one, but who knows. Could it be that Hell's Gate is actually some kind of energy center?
Who knows… 
But what we do know is that there are a lot of stories of some rather creepy and downright terrifying accounts. Could some of these stories be false? Yup, but could a lot of them be real?
Check out these 2 videos we found about Hell's Gate and let us know if you would be brave enough to check this place out! 
Video Source – Awesome 98
Video Source – Big Face Productions 
Have a cool idea for us to showcase? Know somewhere strange to stay the night or that you think we should look into? Have a creepy awesome service or strange carnival/tour you think we should write about? Send us an email to [email protected]