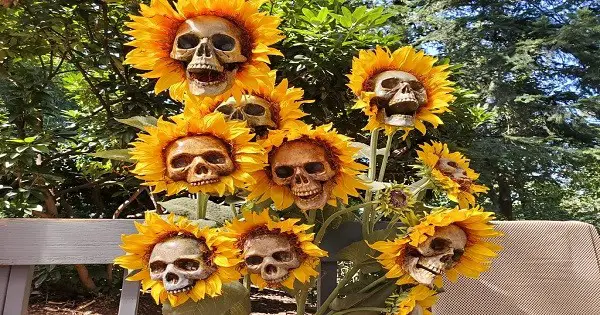 How To Create Your Own Halloween Sunflower Skulls
Halloween Sunflower Skulls
It's almost fall, and a lot of us are looking for Halloween ideas that won't cost us a ton of money. By now you've probably heard of Halloween Sunflower Skulls. If you haven't we found an excellent video on how to make these by SimpleCheapAndEasyDIY'S will save you time and money. You can also get ideas from the video and create your own version of the flower skull.
There really isn't a wrong way to do it, you just need a little bit of creativity, time, and some materials. You can buy flower skulls in various stores that are already made. However, they're going to cost you a lot more than what they would if you just made them yourself. What fun is just buying them? The best part is that you can sit down and create something. It's even better if you have kids that love to decorate for Halloween.
You can even take it a step further and add some of those mini strobe lights to the eyes to make a really cool effect. There really isn't a wrong way of creating them, just be open-minded and let your imagination flow.
Check out the video we found by SimpleCheapAndEasyDIY'S
Video Source – SimpleCheapAndEasyDIY'S
Do you have a video or photographs of something creepy, cool, strange, or odd or somewhere in-between? Think they're a good fit for our site and wan to get your stuff showcased? Email us at [email protected] and let us know what you have in mind!