Hocus Pocus The Game
If you're a fan of the cult-classic Halloween movie Hocus Pocus you're in for a treat.  Ravensburger has officially announced the release of Disney Hocus Pocus: The Game. Yup you heard that right and for those of you who are thinking "well it's about time they create a game" you're right.
There was a new sneak peek given off at Toy Fair not too long ago. The board game was introduced and people were allowed to play it and check it out. So far the reception for the game is really good and it's a family friendly game that means everyone can play.
Players will have to work together to somehow ruin the potions the Sanderson sisters concocted in order to save the lives of the children of Salem before the sun rises. Fans will also recognize some of the spells, also characters like Binx the cat and Billy Butcherson. The last cool thing about the game is the box looks just like their "Book." The game is suitbale for all ages and this is one game we are looking forward to seeing and playing, how about you all?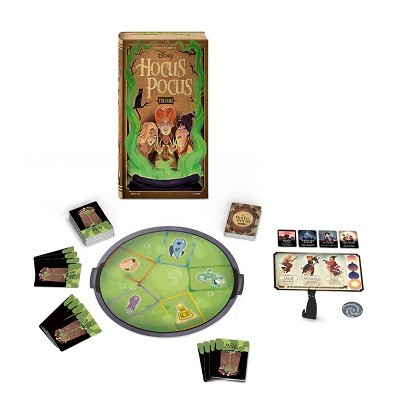 Check out this video we found of some of the funniest moments from the movie by KingdomHeartsFan3211
Video Source – KingdomHeartsFan3211
Have a cool idea for us to showcase? Know somewhere strange to stay the night or that you think we should look into? Have a creepy awesome service or strange carnival/tour you think we should write about? Send us an email to [email protected].