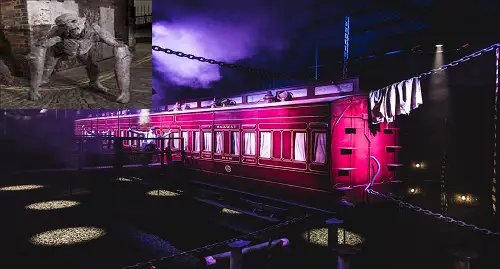 You'll Be Chased By Demons On A Ghost Train In This Fully Immersive VR Experience
Derren Brown Ghost Train: Rise Of The Demon
Illusionist Derren Brown created a ride like none other. The Ghost Train: Rise of the Demon is an insane immersive experience. It's a live action VR experience that also includes the hologram of Derren Brown himself. The ghost train is located in Thorpe Park, Surrey England. If you're expecting a regular ghost train ride with subpar decorations, you're in for a surprise. Riders will climb aboard the Victorian train, it's suspended 3m in the air so you'll feel like you're moving.
The ghost train experience uses various techniques that will heighten all senses. You begin the experience in a dark room, that's enough to get you going. Then you're escorted to the trains platform where your journey begins. You go on insane journey that will leave you questioning if it's real or not. Then when you're done with that you go on a second one where you're being chased by demons.
There are 12 different versions of the virtual reality ride experience. There's also 2 different endings so you if you choose to go back you may get a different ending. This is type of ride that is going to mess with all of your senses. You're going to think you're actually moving when you're not. It's also the kind of ride you'll want to go back on, maybe the 2nd time around you'll get a different ending.
Check out the video posts below and let us know your thoughts.
Video Source – Theme Park Inc
Video Source – Expedition Theme Park
Video Source- Coaster Connection
Do you have an idea or something for us to showcase? Know somewhere strange to stay the night or that you think we should look into? Have a creepy awesome service or strange carnival/tour you think we should write about? Want us to showcase your talent, pictures, or videos? Send us an email to [email protected]