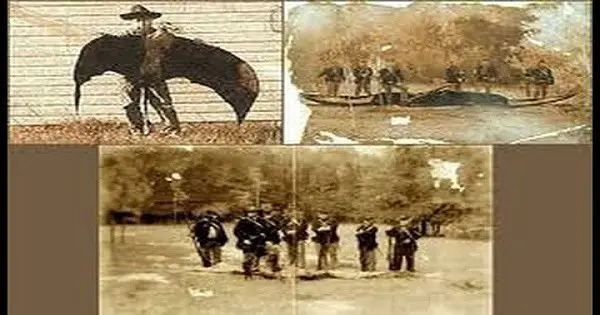 The Scary But TRUE Story Of The Lone Pine Mountain Devil
THE LONE PINE MOUNTAIN DEVILS

The Lone Pine Monsters

Now when you think of stories of cryptids and other odd creatures, unless you've seen in person you won't really believe in them. This story sounds a bit odd even coming from having experienced something similar and just as strange in the past. Some years back we witnessed some very scary things pretty near our house. Now I won't go into detail what we saw, but you can probably guess what it was by the nature of this video below. 
Could a story like this be true? Now we have to look at it from the perspective of the man who wrote the journal. Was the journal actually real and was the story real? I don't mean the story in the journal, but the story about the bodies that were found and that this man was the only man found alive. Even if it was or wasn't true, without any real evidence we can't say if it was or wasn't.
We also have to look at the time period that this happened in. I don't think this guy would make a story up like this for fame and fortune. There wasn't TMZ or any nonsense sites to get famous from, there wasn't any talk shows or anything like. 
So could it be true? Your guess is as a good as mine! 
Check out the video by Fortean Slip
THE LONE PINE MOUNTAIN DEVILS 

SOURCE – THE FORTEAN SLIP 
FOLLOW US ON TWITTER >>>> https://twitter.com/StrangeNcreepy