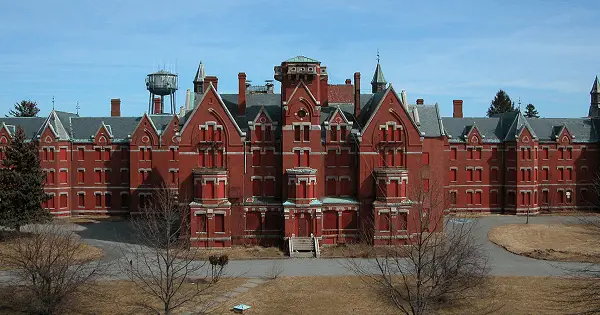 The Mere Sight Of This Massachusetts Asylum Is Enough To Scare The Wits Out Of You
Danvers State Lunatic Asylum- Danvers, Massachusetts
Haunted Massachusetts
Now if you've seen any Stephen King movie, your first impression of this place would be that it belongs in one of his movies. The Danvers State Lunatic Asylum was built in in 1878 and was built for just under 2 million dollars. In 1878 this was a vast amount of money and the end result was a reflection of that because it was called a architectural masterpiece, and by looking at it from the outside most would agree with that term. 
The asylum was actually built over the house where the infamous judge of the Salem Witch trials lived at. Some say that because of this and the massive injustices that the judge was responsible for, that it was doomed from the get go. Even during the construction of this place people said there were numerous odd things going on. 
Many say that this asylum was doomed from the get go, but it wasn't long before it was surrounded by problems.. It was overcrowded, dirty, lacked food and clean water, and the staff wasn't very nice at all to the patients. 
Danvers State Lunatic Asylum- Danvers, Massachusetts
VIDEO SOURCE – Brian Cano
Have a cool idea for us to showcase? Know somewhere strange to stay the night or that you think we should look into? Have a creepy awesome service or strange carnival/tour you think we should write about? Send us an email to [email protected]