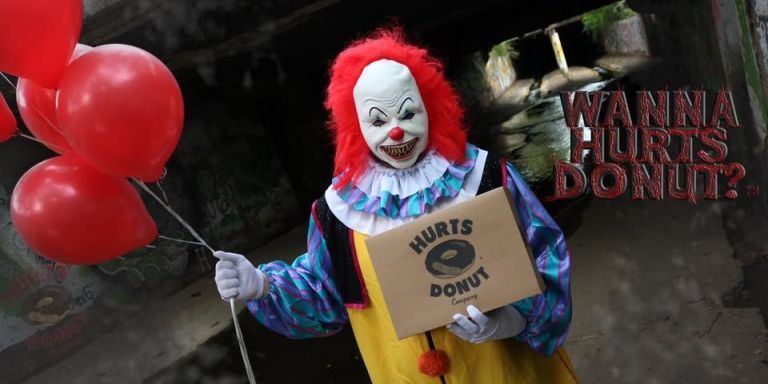 Ever since the summer of 2017 the " creepy clown" craze has gone wild all thanks to the remake of Stephen Kings movie It. Creepy videos of people dressed up as creepy clowns all over the world have been popping up left and right.
Some people are becoming even more terrified of clowns thanks to all the creepy clown stuff going. But others are embracing the whole clown thing and taking it to the next level.
During the month of October Hurts Donuts is taking the creepy clown thing even further. You get a creepy clown to scare the living crap out of someone while delivering them some AWESOME donuts.
There are 19 locations nationwide, and you can check out their website here >> HURTS DONUTS to see if you're able to order these for lucky friend.
So if you need a creepy yet really cool idea for this fall, here's your chance to scare someone with some sweets!
Who would YOU send some to?
VIDEO SOURCE – HURTS DONUT COMPANY
Would you be scared if one of these clowns showed up to your door step?
Who would you get with one of these clowns?