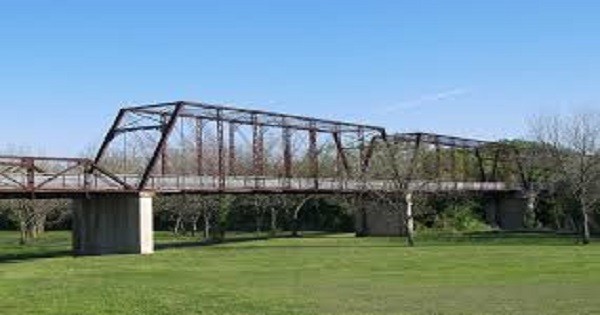 This Texas Crossing Bridge Has a Creepy Paranormal History Behind It
Moore's Crossing Bridge – Texas
The Hanging man Bridge
Most old haunted bridge stories happen way out in the middle of nowhere. This bridge? It's a bridge a lot of people use on a regular basis. Moore's Crossing bridge was converted into a footbridge for pedestrian use sometime during the late '80s or early '90s. 
But the bridge isn't one that was built in the last 50 years or so, it was actually built in the late 1800s and until the '90s was used by both cars and foot traffic.  
The Most Haunted Foot Bridge In Texas 
 The bridge is said to be haunted by a man who was hung by a mob for having an affair with a woman they didn't approve of. Although no records or any proof has ever been found verifying if this story is actually true or not, it has become a creepy urban legend.
The thing about this bridge is that there have been supposed witnesses claiming to have seen a man hanging from the bridge. Others have seen a man walking in out of date clothing along the bridge, so could this story be true?
One thing is for sure, if the story is true it probably was covered up so that those involved would never be accused of the crime. So could it be true? Who knows, but where there's smoke there's fire. 
Either way it looks like a creepy place that I would love to check out, how about you?
Check out this video by Strange Town we found and let us know what you think! 
Moore's Crossing Bridge 
Video Source – Strange Town
Have a cool idea for us to showcase? Know somewhere strange to stay the night or that you think we should look into? Have a creepy awesome service or strange carnival/tour you think we should write about? Send us an email to [email protected]