The Mobile Haunted House That Moves
Due to the pandemic, haunted house creators had to come up with safe yet effective ways to scare people. The traditional way wasn't going to work, so a Tokyo, Japan-based company Kowagarasetai made global news when they created the drive-in haunted house. This year the company is coming back with a new spooky project where you can get scared and still practice social distancing. The crazy part of this is you don't have to leave your home.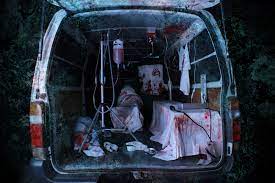 Kowagararesai has created Japan's first delivery haunted house you can book and send it to where ever you desire. You just have to make a reservation first on their website. For now, it's only in Japan but the company hopes to expand in the coming years to other countries. The experience lasts about 15 minutes, they use 3D audio effects, vibrating seats, and splashing water as part of the thrill. The car doesn't move while you're in session so you don't have to worry about that.
This is the perfect idea for those who love haunted houses but are still wanting to stay away from large crowds. Hopefully, this idea will catch on to other countries, and maybe the vehicles and experiences will grow.
Check out this video of their 2020 drive-in haunted house and let us know your thoughts.

Video Source – The Japan Times
Do you have an idea or something for us to showcase? Know somewhere strange to stay the night or that you think we should look into? Have a creepy awesome service or strange carnival/tour you think we should write about? Want us to showcase your talent, pictures, or videos? Send us an email to [email protected]