The Horror Movie Themed Hotel
Most hotels don't have a 13th floor, but Denver, Colorado's "The Curtis" hotel has a horror movie themed 13th floor. It's almost like walking into a haunted house, the only difference is you're staying the night. The Curtis Hotel which is a DoubleTree by Hilton also has a Ghostbusters Suite. The hotel has 336 guest rooms that feature some pretty cool modern art.
Related
Each floor has some kind of theme, so if you're not into horror there are other floors you can choose from.
The 13th floor has a blood-red and black theme and has a "Shining" feel to it. There are some props from the movie that will make you think twice about staying. Check out the video post we found about this place and let us know your thoughts.
Video source – Suite Dreams
The Ghostbusters Suite
If you're a Ghostbusters fan, the suite on the 13th floor is your dream come true. It looks like you walked into Slimers domain and have to strap on a proton pack before the world goes back into the pit of fire Zule was going to turn it into. The Suite comes complete with everything you'll need to make your night stay an awesome one. Not to mention you're staying on the 13th floor, which has a horror theme behind it. I don't know about you all but I think I would be a little afraid to walk in the hallway at night.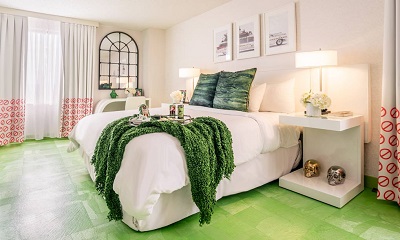 Horror Movie Themed 13th Floor
The Curtis Hotel not only has a horror-themed 13th floor, they also have a different theme for each floor you go on. The rooms are even themed to whatever it is you desire. Do you love video games? They have a video game-themed floor complete with games in the rooms. Imagine loving old video games and walking into a hotel room with video games already in it. That's not the only thing they have, the location looks like an amazing place to stay.
Looking for more information on how to book a room? Check out their site here > The Curtis Hotel
Check out this last video we found by JR Food And Travels
Video Source – JR Food And Travels
Do you have an idea or something for us to showcase? Know somewhere strange to stay the night or that you think we should look into? Have a creepy awesome service or strange carnival/tour you think we should write about? Want us to showcase your talent, pictures, or videos? Send us an email to [email protected]